My name is Susan Mattinson and I'm the minister of
​First Presbyterian Church in Thunder Bay, Ontario, Canada.

​​You might say that I'm full of Shep! *ba-dum tsssss*

​​Here are the answers to some FAQ's...
​


How did you come up with the idea for "Pastor Shep"?


​
I'm proud to say that I draw like a six year old with over twenty
​years of practice! By that, I mean that I don't have any formal art
​education or complicated computer programs. I use paper,
​pencils, inking pens, and coloured pencils to create all the comics
​by hand and then I scan them onto the computer. I love that I still
​create pictures with essentially the same materials that I used
​when I was a child!
​
The character of Pastor Shep was created while I was in
​seminary. I was struggling to make sense of the role I would have
​as a minister. Ministers are supposed to be leaders and there's
​this idea that they're more equipped or more spiritually developed
​than the people in their church. But at the very same time,
​ministers are just Christians like everyone else—quirky, making
​mistakes, and trying their best to understand and to live their
​faith day by day. In my mind, ministers are essentially sheep who
​are shepherds…"sheepherds", if you will.
​
Where do your jokes come from?
​
The inspiration for the jokes comes from a lot of different places.
​They're mistakes I've made, funny stories of my own or that other
​people have shared with me and allowed me to use; they're
​things that I could see going wrong, even if they haven't actually
​gone wrong. Sometimes they're simply funny puns, plays on
​words, things misheard or misunderstood, or odd Bible ​
​references—like in the case of the "Jehu's Driving" comic. I
​actually had a number of people contact me to say they looked
​up the scripture reference themselves, just to make sure it was
​really ​in the Bible!
​
What's with the weird combination of animals?
​
I use an impossible combination of animals in the comics. There
​are sheep, but there is also an octopus, turtle, a couple types of
​parrot, a chicken, goldfish, snake, spider, whale, and various
​other creatures. I do that to represent all the different
​personalities and even mobility issues of people in our churches.
​For instance, in my mind, the goldfish in the goldfish bowl
​represents someone in a wheelchair, or who is bedridden, or who
​is otherwise unable to get around by themselves. And yet, we see
​the goldfish still welcomed and taking part in the life of the
​congregation.
​
What is a picture pageant?
​
The picture pageants have been a unique offshoot of the Pastor
​Shep comics. It started one winter when I realized we didn't have
​enough children to stage a live Christmas Pageant in our church,
​but that children would still be coming to our Christmas Eve
​service. Wanting something that would still appeal to children in
​the audience, I wrote out the basic Christmas story and illustrated
​it as though the "Pastor Shep" characters were performing a
​Christmas pageant. On Christmas Eve, I read the story while
​projecting the pictures onto a large screen with an LCD projector.
​It went over really well! Actually, "Pastor Shep's Picture Pageant"
​is now a published book! There is also a CD option that gives
​churches access to the raw pictures and story files. That way, a
​church can put together their own LCD presentation to use
​during the Christmas season. I hope to keep making various
​picture pageants and making them available as a unique
​resource for churches.
​


Do you see this as a ministry?


​
I absolutely consider "Pastor Shep" a ministry—a comic strip
​ministry! It's cute and it's fun, but I hope people also find the
​deeper layers in the comics—messages about what it means to be
​a part of a varied faith community; what it means to be a leader
​by being a servant; and what it means to have the humour and
​faith of a child. It's easy to get frustrated, or point out the flaws
​and failings of the Church, but it's my prayer that "Pastor Shep"
​will instead inspire people to celebrate the quirky family of faith
​that we've come to know and love. Truly, it's a large and
​colourful tapestry that we get to be a part of, so let's enjoy it!

Pastor Shep © Susan Mattinson, 2012-2019. Reproduction permitted with permission of creator. All Rights Reserved.
First Pastor Shep drawing...
drawn a few years before I started the strip and crinkled by neglect.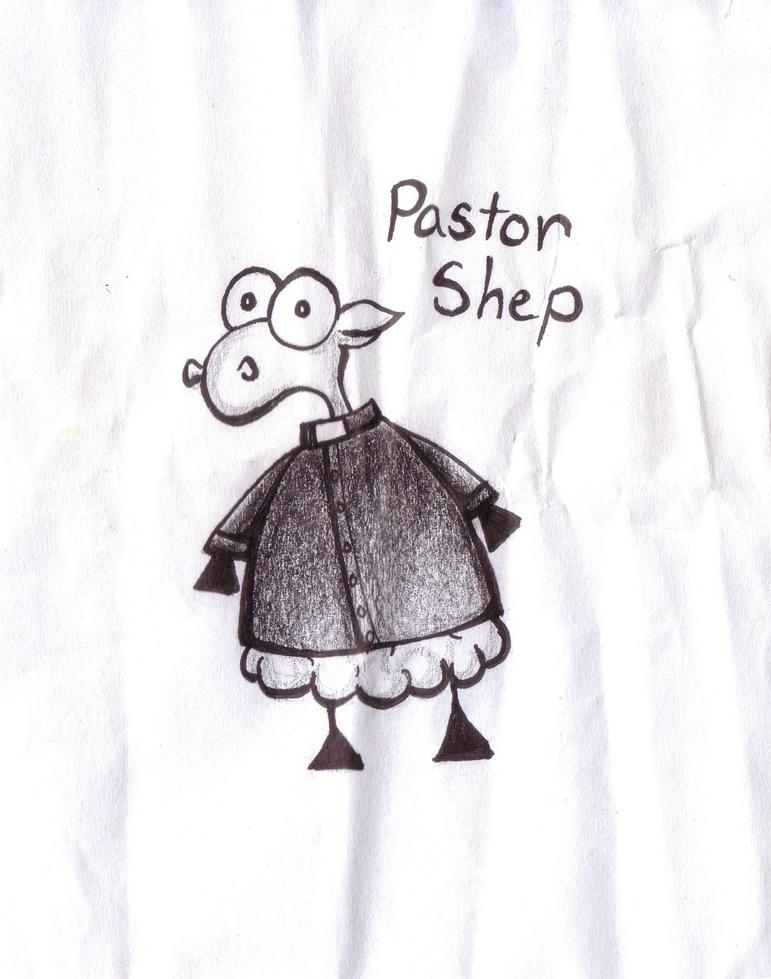 ​All comics are hand-drawn, inked, and coloured with loving care.
The finished product is simply computer-scanned and cropped.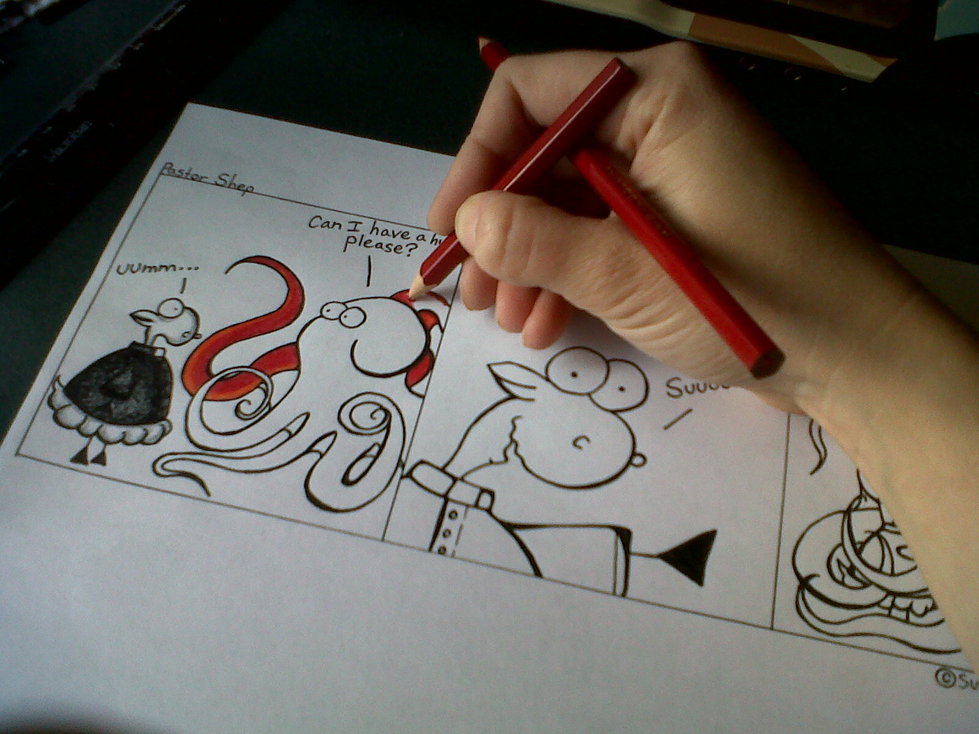 Each comic is drawn roughly as a storyboard
to sort out movement and timing.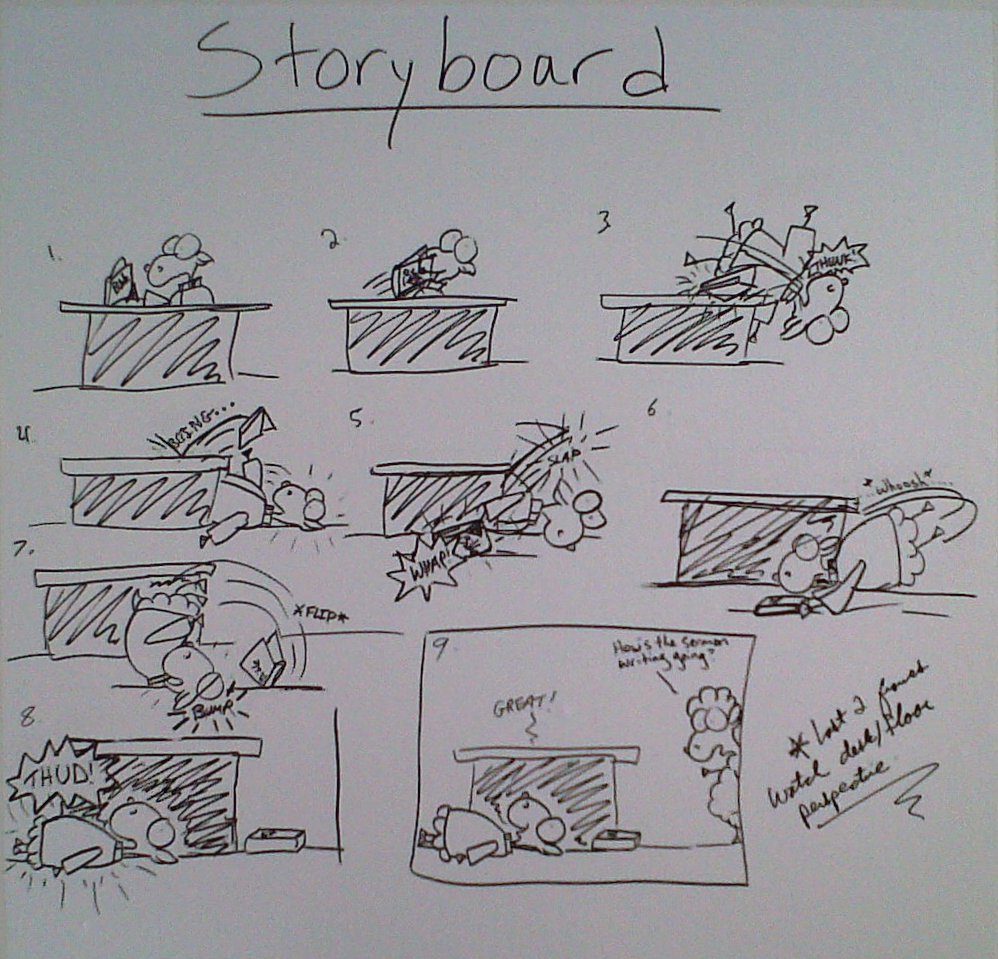 Publications in which
​Pastor Shep appears:
Various church bulletins, mail-outs, newsletters, websites, and social media around the world!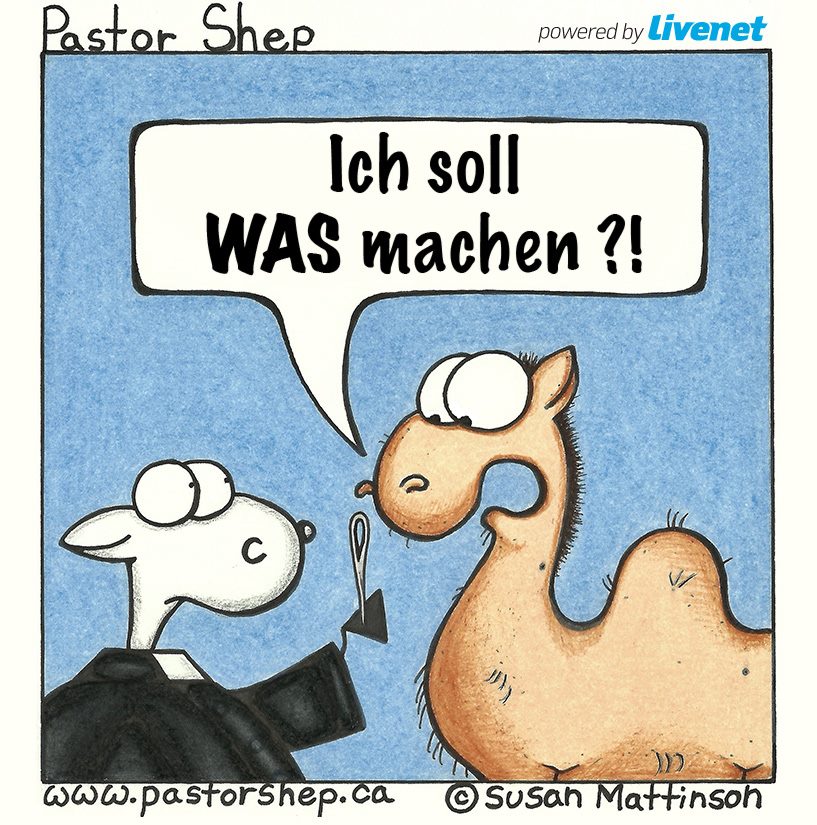 Many "Pastor Shep" comics have even been translated into German!